Robotic Process Automation (RPA) can make a huge difference for organizations with lots of repetitive and mundane tasks. However, any time you are making fundamental changes to internal operations, there is bound to be some skepticism. In order to combat this, you'll need to get some quick wins and start proving ROI and business value early on.
Here are some key indicators to look for when trying to identify which processes can produce early results and help you achieve buy-in from key stakeholders.
How To Identify Quick Wins for RPA
Every business leader wants to see rapid results from their RPA initiative. To do so, it's best to begin automating processes or tasks that might be considered "low-hanging fruit" to deliver a demonstrable impact to the organization. What do these opportunities look like? Seek out one or more of these eight process attributes:
1) Repetitive
Is the task based on a standard, repeatable process? Is it likely to remain stable for the foreseeable future without undergoing major changes? These kinds of tasks are prime candidates for RPA.
2) High Volume
Is the task being performed repeatedly at a high volume? Does the process follow the same steps in the same order every time? These kinds of frequently occurring tasks often require a lot of human effort and are easy wins for RPA.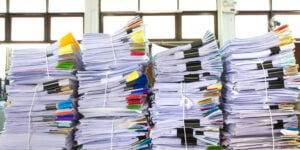 3) Rules-Based
Look for processes that abide by a specific set of rules and do not require judgment or coordination with another person. For example, invoice processing, inputting sales orders, running payroll, and other straightforward but tedious tasks are important but can take up hours of employee time.
4) Stable
If a process is constantly changing or being updated, it would not be efficient or cost-effective to try and automate it. Instead, look for simple, refined processes that have more or less been set in stone.
5) Performed by a Single Person or Role
When you're just getting started with RPA, tasks that are performed by a single person or role are easier to automate than those that cut across several different roles and/or departments (like QTC or quote-to-cash processes, for example).
6) Fewer Decision Points
The idea here is to consider how complex the task is. Simpler tasks that have few decision points or logical exceptions make the best candidates for automation. Decision points should also be binary and based on data, not judgment or opinions.
7) Limited Dependencies
RPA is a great solution for connecting disparate systems throughout your organization. However, the more systems that are involved, the longer it can take to automate and see results. Look for processes that interact with a smaller number of systems, and thus have fewer dependencies, to find a quick win.
8) Works with All Digital Information (No Handwriting or Images)
While there are solutions available to help you manage unstructured data – such as images, PDFs, or handwritten notes – with RPA, this can add another layer of complexity and may present more challenges than rewards. During the early stages of RPA implementation, it is best to focus on processes that manage all digital information.
Delivering ROI Quickly with RPA
Implementing RPA for any size organization is a big undertaking that will require buy-in from your team, leadership, and other stakeholders. In order to build trust internally, you will need to find some quick wins and prove ROI early on. The criteria outlined above will guide your search for quick-win processes that will generate results and build trust with key stakeholders.
Would you like to learn more about how process automation can fit into your business operations? Contact us today to schedule your free, 30-minute consultation.